Manitoga
Tucked away in the quiet hills of Garrison, New York lies the 75-acre estate of American industrial designer Russel Wright. From the road, it's unassuming. Tree-lined roads lead to a wooded hill, and the entry to the home is more of the same. It is only after a short hike up through the trees that one is welcomed into a spectacular sanctuary that looks as though it were a hidden paradise found untouched in the hills of upstate New York.
This is, of course, not at all the story of how Manitoga came to be - of what is was, and what it became.
Russel Wright is perhaps a name not familiar to many today, but his influence is felt by most people in the Western world. He created a dinnerware set, American Modern, in 1939 that went on to become (and remains) the most sold dinnerware set in history. He was a modernist, creating simple, clean, functional forms and believed that good design ought to be accessible to everyone. His Guide to Easier Living, published with his wife Mary in 1950, detailed their views on efficient design and promoting leisure was a best-seller and remains in print to this day.
He was the first designer to create a brand behind his name. American Modern was emblazoned with his trademark signature, and his designs spawned a business model since imitated by other now iconic personality-centered brands.
Simplicity is rarely simple. It is a process of continual refinement time and time again until you reach a more ideal form. A simple form often seems obvious when completed, but belies the effort that went into its creation.
When Russel Wright purchased the land that would become his Manitoga, it was a scar cut into the Earth. An abandoned quarry, void of trees and life cut down to allow for the needs of the industry that occupied the space before. When his wife Mary died in 1952, Russel moved to Manitoga where he spent the next 24 years creating a small paradise for himself and his guests.
He removed the marks of man, leaving behind only scarce signs of human activity as a reminder of the site's past. He re-routed a river, creating a waterfall and filling the pit of the quarry, and making sure the river re-joined its original path further downstream.
Early in his life Russel worked as a set designer in the New York City theater with Norman Bel Geddes (an Art Deco and Streamline Moderne industrial designer who was later responsible for General Motor's highly-influential Futurama exhibition during the 1939 New York World's Fair). His experience in theater influenced his work on Manitoga - He carefully selected plants to create scenes: balancing walls made of trees over moss covered terraces to create hidden gathering spots that appeared completely natural, but were carefully guided and tended to. The flowering in spring of certain trees he planted reminded him of strawberry ice cream, and he would invite guests during this season to come share an afternoon with him on his trails, sharing fresh strawberry ice cream beneath the blooms.
Russel's driving objective behind Manitoga was to create a living space that looked as though it were hewn from nature itself, and to Wright's credit, he succeeded. His guests frequently marveled at his estate, commenting on his good fortune at having found such an idyllic property, unaware of its original state.
The grounds are remarkable - a clean, quiet tapestry of green beset by the gentle gurgle of a a waterfall and the wafts of cool air flowing through the boughs of the trees. Wright's work on the house is much the same as what he did to the land, and he created a structure that was built into what he found.
The interior is carefully apportioned, with multi-function rooms focused on living leisurely. The paneling, where it existed, was double-sided, with bright and dark tones matched to be used during spring and summer, as well as fall and winter. The levels of the house follow that of the cliff face it was built onto, with rooms overlooking the pool and "Dragon Rock" - the edge of the former quarry so named by his daughter, resembling the head of a dragon dipping its head for a drink.
The walls inside were insulated and plastered using pine needles and resin. The roof of the home was flat - a "green roof" and one of the first of its kind, intended to blend the home with its surroundings by forming a natural platform for grasses and trees to grow on. The chimney was camouflaged by stone, forming a natural outcropping from the building in lieu of stacked brick. The main load bearing support of the home was hidden inside a large trunk felled on the property, and the wood used to construct the home was also found onsite - cut, dried, and turned to lumber in a process that took several years to complete before the home was built.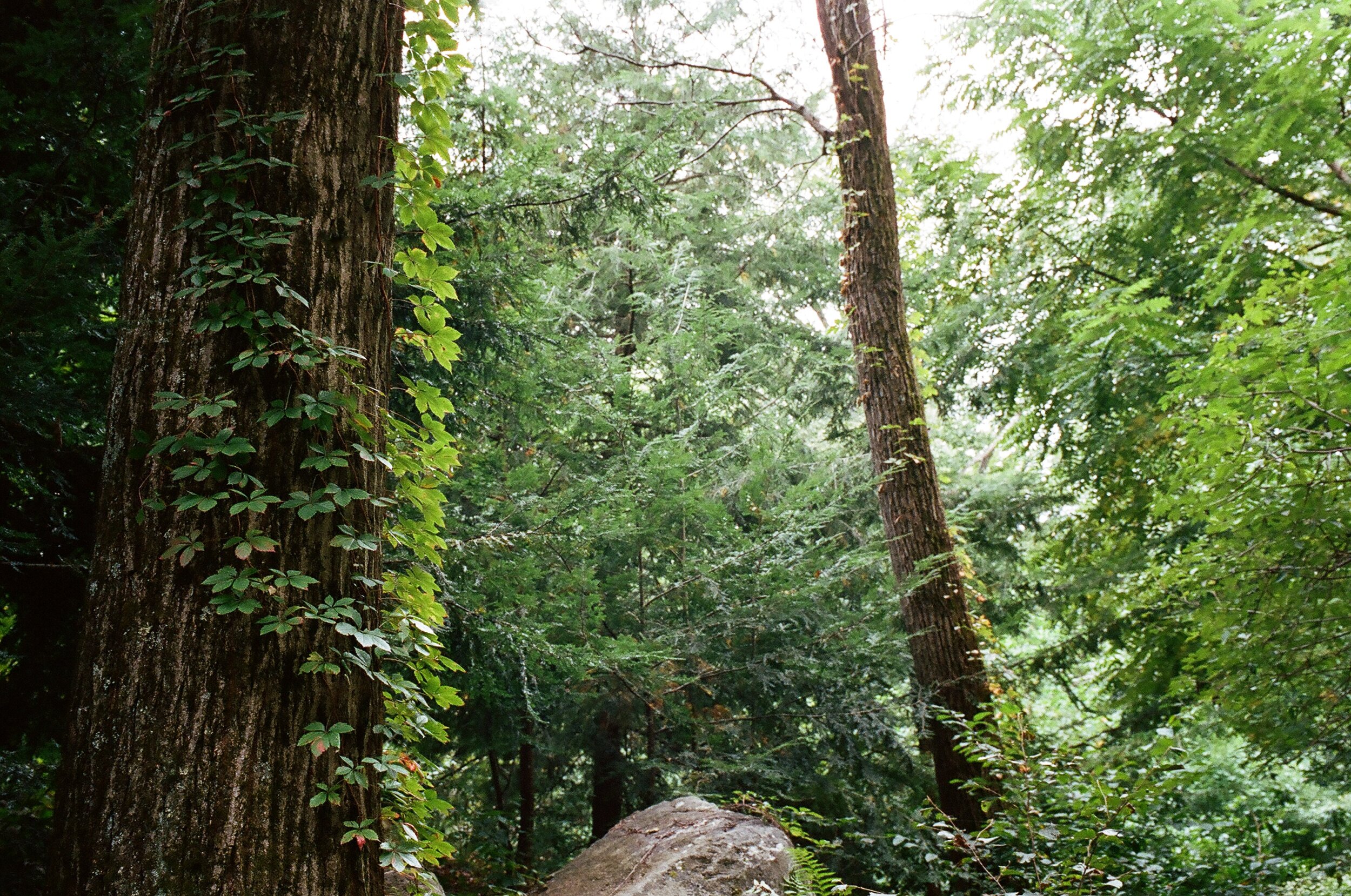 As has become a common refrain here at The Observatory, we are fond of things that are a bit more analog - of taking the long way around, of doing things a bit slower, and taking the time. Every little detail in Russel Wright's estate has been designed with a purpose, and each of them flow into the other seamlessly. You would not notice many of them without them being pointed out; you would simply feel that things were 'right'.
Good design draws on the sum total of the designer's life. The tiny influences that made them who they are are reflected in ways large and small in every piece of their work. A good design always tells a good story.
Manitoga is an exercise in cultivated simplicity. Every part of the Earth surrounding it has been carefully considered. Every wall inside carefully placed. There is nothing left to chance in its design and construction, yet, it looks simple - it looks right.
Over two decades of thought, effort, and refinement yielded a haven that looks as though created by nature itself, yet guided by the patient hand of a man at the top of his ability.
Today Manitoga serves as a preservation of Russel Wright's legacy. Showcases of his designs are present, along with exhibitions from artists-in-residency who work in line with the design philosophies that guided Russel's sculpting of his estate.
The grounds provide a view from the past into a life well lived - a design language that was simple, clean, and encouraged leisure, in all its varied forms.
Nearly 70 years on, Manitoga remains relevant today, not merely as a time capsule of a man's work, but as an expression of a design language that retains a classic form, and a reminder of the good that results with thought, care, and time.
Special thanks to Vivian Linares of the Russel Wright Design Center for color photos of the interior of Manitoga, and the portrait of Russel Wright.